Molly Tuttle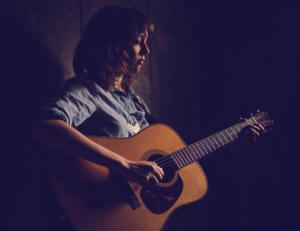 IBMA Guitarist of the Year, Wonderful Songwriter and Vocalist
Friday, March 9 2018 at 7:00PM
Tickets: advance $15 – at the door $17
Note: you will not receive paper tickets. When you buy, your name will be on the list at the door. No Credit Card? Email prismcoffeehouse@gmail.com or call (434) 978-4335 to reserve ticket(s).
2017 was a busy year for the next-gen bluegrass master guitar/banjo picker and songwriter Molly Tuttle. She was on the cover of Acoustic Guitar magazine, released her fist solo and original CD Rise, was nominated and then won IBMA Guitarist of the Year and signed with Compass records. She continued to tour aggressively playing bluegrass, crossover, folk and old time festivals across the country and abroad. She will be appearing at the Prism with Hasee Ciaccio on bass, Wesley Corbett on banjo, and Duncan Wickel on fiddle.
A virtuoso multi-instrumentalist and award winning songwriter with a distinctive voice, Molly has turned the heads of even the most seasoned industry professionals. She began performing on stage when she was 11, and recorded her first album, The Old Apple Tree, at age 13. Since then, she's appeared on A Prairie Home Companion and at Hardly Strictly Bluegrass, was featured on the cover of Flatpicking Guitar Magazine, won first place in the prestigious Chris Austin Songwriting Competition at Merlefest, and, this fall, received a Momentum Award from the International Bluegrass Music Association in the instrumentalist category. Her lovely voice, impeccable guitar playing, and sensitive song writing make her a star on the rise. She has already received more than two million YouTube views.
Molly Tuttle, blew away the unsuspecting crowd with her rapid fire bluegrass guitar work that would put even the most talented shredders to shame. It was a marvel to see such incredible technical skill combined with a sweet voice and fun, barn-storming songwriting.
– Jonah, Write to the Beat
[Molly Tuttle] sings with the gentle authority of Gillian Welch, yet plays astoundingly fleet flat-picking guitar like Chet Atkins on superdrive.
-Paul Zollo, American Songwriter Magazine