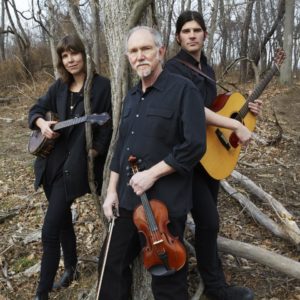 "Tradition steeped in possibility"
The Prism is excited to offer 13 outstanding concerts during a packed Fall season. Leading this parade of exceptional musical talent, on Wednesday, September 21, 2016, is:
Molsky's Mountain Drifters – a brand new trio with Bruce Molsky, Allison de Groot and Stash Wyslouch
Bruce Molsky, "one of America's premier fiddling talents" (Mother Jones) and Grammy-nominated artist on fiddle, banjo, guitar and song is delighted to present his new group, Molsky's Mountain Drifters, in the season opener at The Prism. Bruce's previous collaborations with Anonymous 4, Mark Knopfler, Andy Irvine, Donal Lunny, Scottish legend Aly Bain and America's great dobroist Jerry Douglas, place him front and center among great traditional musicians. His new group involves old-time music virtuoso Allison de Groot and bluegrass genre-bending pioneer Stash Wyslouch.
"Bruce Molsky is one of those great players who 'gets it': has all the links to the past but is happy not to be chained to it" – Mark Knopfler
"A mystical awareness of how to bring out the new in something that is old" – Mark O'Connor
Tickets:
$18 in advance/$20 at the door
For those without a credit card, you can also e-mail prismcoffeehouse@gmail.com to reserve your ticket(s).