Fri 2/3/17
Time: 7pm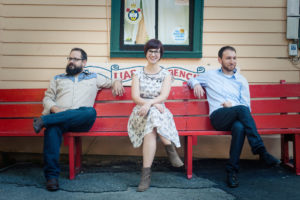 The Prism Coffeehouse is delighted to announce the April Verch Band in concert
"Bow. Feet. Vox. A trifecta of talent, keeping tradition feisty."
The Prism Coffeehouse, Charlottesville, VA
proudly presents the April Verch Band in concert
"Bow. Feet. Vox. A trifecta of talent, keeping tradition feisty."
Tickets: $16 advance/ $18 door
At C'ville Coffee, 1301 Harris St. Charlottesville, VA 22903
While April Verch is perhaps best known for playing traditional fiddle styles from her native Ottawa Valley, Canada, her performances extend into old-time American and Appalachian styles and beyond, for a well-rounded tour-de-force of North Americana sounds. Verch tours with world-class musicians as a trio, featuring acoustic guitar, mandolin, bass and clawhammer banjo in addition to Verch's vocals, fiddle and foot percussion.
One might suspect a performer with as many talents as Verch would pause to take a breath, or need to somewhat compartmentalize her skills during a live performance. But on stage, Verch is almost superhuman, flawlessly intertwining and overlapping different performative elements. She stepdances while fiddling. She sings while stepdancing. Sometimes she sings, steps and fiddles all at once, with apparent ease and precision. Verch is – as they say – a triple threat in performance, her live show a beautiful companion to her music: versatile, robust, and masterfully executed.
Here's an added FEATURE!
The Blue Ridge Irish Music School (BRIMS) is partnering with the Prism to present a percussive dance workshop with April Verch. April performs step dance from her native Ottawa Valley in Canada.
Saturday, February 4th
Time/location TBA
$20
Email BRIMS to register.