World-class Swedish acoustic trio, Väsen
A joint presentation of The Prism and radio station WTJU

Saturday, September 23, 7:00 PM
at C'Ville Coffee
Tickets, $22 in advance; $24 at the door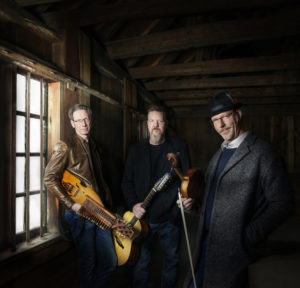 Väsen: Three musicians with a singular sound and a playful yet accomplished interplay. They have a great sense of humor and modernity rooted in tradition.
The three parts meld into a unique and full sound landscape: a five-string viola of sophisticated symphonic taste, an adventurous 12-string guitar, and a nyckelharpa (a "keyed fiddle") deeply rooted in the traditions of Swedish folk music. All three are instrumental virtuosos in their own right, and together they form a unique supernatural being. To experience Väsen is to witness ensemble playing at its finest.
The band's origins are deeply rooted in the forests and rich earth of the Swedish countryside, in the centuries-old tradition of the folk music of Uppland. It's a tradition spiced with consummate playing skills. But this is more than just a traditional sound.
There's a playfulness to their music, a joyousness, and a delight in making exciting new arrangements of centuries-old tunes, and new originals inspired by the tradition. Rock, jazz, traditional, and classical influences weave together, making a music that's beautiful but never cloying.