Locust Honey
Locust Honey
Thursday, March 15 at 7:00 PM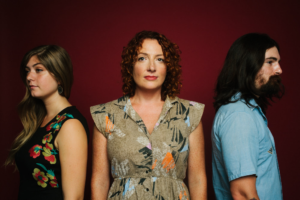 Tickets: advance $11 – at the door $13
Note: you will not receive paper tickets. When you buy, your name will be on the list at the door. No Credit Card? Email prismcoffeehouse@gmail.com or call (434) 978-4335 to reserve ticket(s).
Online band site: www.locusthoney.com
As Locust

Honey

, Chloe Edmonstone and Meredith Watson bring their experience in Old-Time, Bluegrass, and Pre-War Blues to both their original material and the traditional songs and tunes of the American Southeast. With a rotating instrumentation of fiddles, open-back and resonator banjos, acoustic and resonator guitars, they set an emphasis on lively arrangements that showcase their signature vintage vocal harmonies. Joined by John Miller, (The Fox Hunt, The Hackensaw Boys,) on upright bass, they have been touring the US, UK and Ireland since 2012.
Their original song, "When The Whiskey's Gone," was featured in the 2014 film "Time Out of Mind," starring Richard Gere and directed by Oren Moverman, and a second unreleased original will be included in the 2016 film "The Dinner," by the same writer/director.

Locust

Honey

's record "Never Let Me Cross Your Mind" debuted to critical acclaim in 2014 and remained in the top ten on the Folk DJ Charts for 4 months. Subsequently released in The UK and Ireland, it was chosen as one of the best country albums of 2016 by The Telegraph in London.
"They remind us that old-time music can be hard-driving dance music played with high energy and subtlety at the same time." – Bluegrass Unlimited

"This is American Roots music at it's best! Old-Time String Band traditional fiddle/banjo tunes to vintage country duets, Carter Family songs to dancehall honkytonk songs and mountain blues, this smashing album has them all." – The Irish Post

"Their new album is in heavy rotation here in the Hudson Valley farm house, fitting in right along with all those killer 78's from Yazoo. Grab yourself a copy and put on your dancing shoes." – No Depression