Danny Barnes, Grant Gordy & Joe K Walsh
The Prism Coffeehouse is excited to announce the return of Danny Barnes, Grant Gordy & Joe K Walsh
Saturday, December 9, 2017
Danny Barnes / Grant Gordy / Joe K. Walsh
"Banjo legend with master pickers"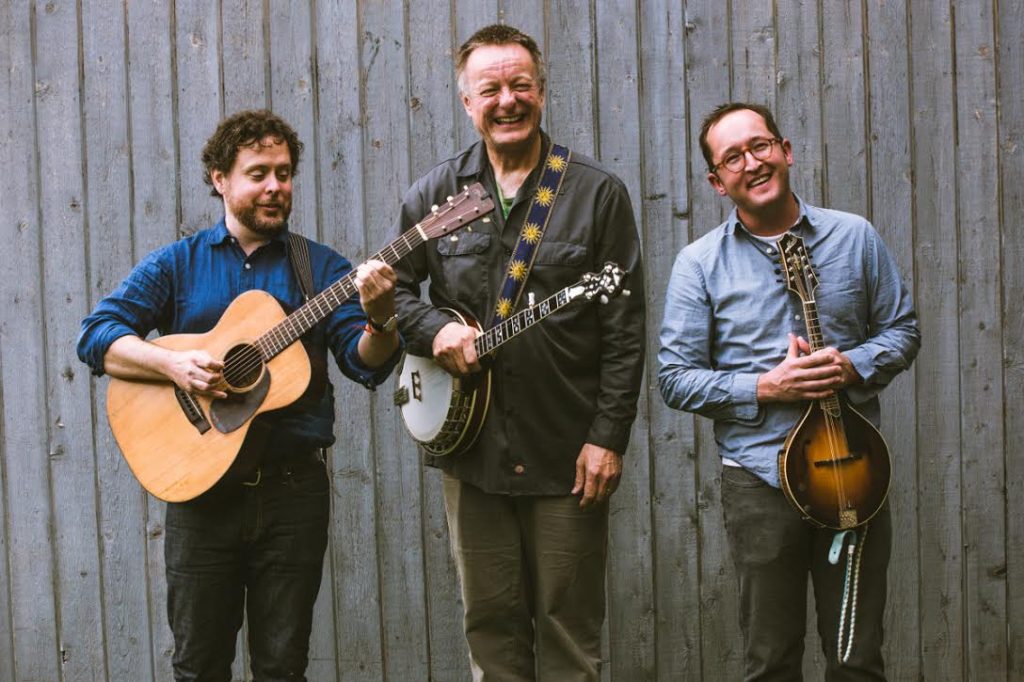 Danny Barnes
is already known as an iconic American musician, a banjo playing innovator who's earned high praise from everybody from Bill Frisell and Dave Matthews to Steve Martin, who presented Danny with the
Prize for Excellence in Banjo
in 2015. From the days with his groundbreaking Austin band, the
Bad Livers
, to his two decade solo career experimenting with electronic music, jazz, old time string band music and more, he's a genre bending, rule breaking original who prefers to color outside the lines. Joining Danny for the
Saturday, December 9th
show will be two of the finest bluegrass pickers on the circuit today, Grant Gordy (guitar, vocals) and Joe K. Walsh (mandolin, vocals).
Danny Barnes Released an all-acoustic homage to Don Stover, Stove Up, on March 3, 2017.
With Stove Up, out March 3, 2017, Danny's showing us that it was always a choice, that he's always had the chops to play straight ahead bluegrass banjo with the best of them. With a top-flight band backing him up, Danny turns in an amazing set of tunes that demonstrate his respect for tradition and his commitment to his own musical voice.
"Happily, with Stove Up, our five-string hero steps out of the lab and into the sunlight where his pre-war Gibson can really shine," says Tim O'Brien. "Producer and guitarist Nick Forster wisely loosens the reins and lets his pack of thoroughbreds set a fast pace around the bluegrass track. Mandolinist Chris Henry, with his bone-dry tone and expanded traditional approach, is a particularly inspired foil to Barnes. Along with Forster, much decorated fiddler Jason Carter, and everyone's favorite bassist, Mike Bub, they cut through some beautiful territory, including two Don Stover's compositions—"Black Diamond" and "Rockwood Deer Chase." Three vocal tracks peek through the instrumentals and give new listeners a look into the quirky mind of Barnes… These are live and lively performances where you can almost hear the musicians smile."
Danny says, "After 45 years of practicing, this is the first acoustic bluegrass record I've ever made. Nick, Mike, Jason, and Chris are bluegrass royalty! It was a sure enough honor to be able to make Stove Up, a loving homage to the great Don Stover."
Kind words about Danny and Stove Up:
"My friend Danny. The truth. This is the thing that struck me most strongly when I first heard Danny Barnes and is something that continues to grow stronger and clearer. What we hear from Danny is true. It can be coming from no one else. His story. Whether it's the songs he writes himself or those he chooses to play. He has lived it. He's not playing 'at' it. He 'is' it… Danny's love of, connection to, and history with this music is long and deep. What a joy now to listen to these songs transformed through his lifetime of experience. It is a wonderful thing… Thank you Danny. Sincerely." —Bill Frisell
"Danny Barnes represents all that is good about heartfelt music. He has deep passion, exemplary technique, great abilities as a songwriter, richly burnished vocals, and the fearsome desire to break through boundaries while still staying solidly rooted in tradition. He's as fine as they come."  —Tony Trischka
"Like Superman squeezing a lump of coal, Danny Barnes can transform crumbling musical remnants into cutting edge innovations, but avid fans have long known that Barnyard Electronics' chief engineer has some serious traditional banjo chops." —Tim O'Brien