The Gina Clowes Project
The Prism Coffeehouse
is excited to present
The Gina Clowes Project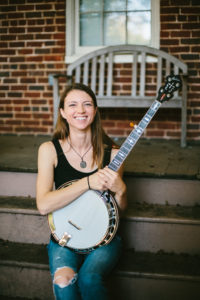 "absurdly talented" Night Drivers banjoist fronts her own band
Friday May 11th at 7pm
At C'Ville Coffee
Advance tickets $13/Door $15
Available only from http://prismcoffeehouse.org
Note: you will not receive paper tickets. When you buy, your name will be on the list at the door. No Credit Card? Email prismcoffeehouse@gmail.com or call (434) 978-4335 to reserve ticket(s).
http://www.ginaclowesbanjo.com
Gina Clowes' innovative and unique musicianship and songwriting, although based in traditional music modalities, breaks free from the assumed constructs and makes a new musical statement that's influenced by emotion, is played with the highest skill, and expresses an enormous verve and vitality.
With an intent to use the banjo as a medium of personal expression, Clowes moves through varied modes of musical treatments. Although she's known mainly known for her work as the banjo player for Chris Jones and the Night Drivers, she has a long history with her banjo. Born and raised in Front Royal, Virginia, Gina began touring up and down the east coast in her tween years with her siblings, earning countless ribbons from fiddlers conventions, a strong reputation in the regional bluegrass scene, and a stamp from Bluegrass Today as "absurdly talented". She later played in a number of regional acts (Blue Light Special, New Girls Nite Out, On the Run, Bud's Collective) and has made her international touring exposure with Chris Jones and the Night Drivers soon after joining the group. She is sought after as a teacher privately and at camps across the country. Her new album, True Colors, which was released in September 2017, debuted on bluegrass Billboard Charts at #13, had a number one hit on Roots Music Report, has appeared on Bluegrass Today's Grassicana Charts, and has received sparkling reviews from critics. Gina was featured on the cover of Banjo Newsletter and her tune "Saylor's Creek" was featured in the December 2017 issue.
Joining Gina will be bandmates Johnny Calamari on bass, Joey Mosley on guitar, and sister Malia Furtado on fiddle.
"An exceptionally well rounded artist! It is no surprise that her songs would showcase her swift and graceful picking, but [True Colors] also reveals her to be a graceful singer and insightful songwriter."
-The Bluegrass Situation
"Bluegrass fans have developed expectations of banjo albums, and likewise with a singer-songwriter project. Gina Clowes has turned both these conventions on their heads with her recent release, True Colors."
​-Bluegrass Today