Hoot and Holler
THE PRISM COFFEEHOUSE, Charlottesville, VA
http://prismcoffeehouse.org/
Presents
Hoot and Holler
http://www.hootandhollermusic.com/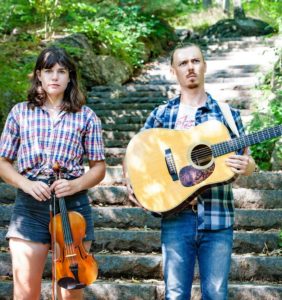 "Soulful grit and polished technique; traditional and original old-time fiddle tunes"
Saturday, May 6, 2017
Time: 7:00 pm
at C'ville Coffee, 1301 Harris St. Charlottesville, VA 22903
Tickets: $10/advance / $12/door
The Prism Coffeehouse is excited to welcome Hoot and Holler to the C'ville Coffee stage.
http://www.hootandhollermusic.com/
Fiddle-Guitar duo Hoot and Holler are from everywhere and nowhere. Born of a love of American folk music, nurtured in Boston's burgeoning string band scene, and inspired by the authenticity and enduring spirit of traditional Appalachian mountain music, they've hit the road full time in their cargo-turned-camper van "Irene". Their tender harmonizing and songwriting comes across as simple, honest, and fresh to the ears. Described as the perfect cross section of soulful grit and polished technique, you can expect the full range of dynamics when performing traditional and original old time fiddle tunes. Like a sonic cross-country road trip, you can hear the soundscapes from different parts of the country in their original songs: from the dirgy Louisiana swamp to the stark and sparse beauty of a Southwestern desert.
Hoot and Holler has shared a bill with the notable acts: Ricky Skaggs, Red Tail Ring, The Revelers, Sam Moss, Roochie Roochie and The Ragtime Shepard Kings, Charm City Junction, Sarah Jane Scouten, Hannah Shira Naiman, Twisted Pine, Two Guys Named Ben and Lula Wiles.
__________
"Hoot and Holler delivers on their debut EP Nothing If Not Young. Grads of the Berklee College of Music, Mark Kilianski and Amy Alvey not only have top-notch chops, they've crafted a top-notch sound that's pleasantly refreshing…The soundscapes are rooted in Old-Time music but with a contemporary feel that keeps the songs fresh and exciting. In short, this is happy music played by happy people with feeling."
–Brad Kolodner WAMU's Bluegrass Country
"Hoot and Holler takes the best of two separate fantastic artists and melds them into something that is even greater than the sum of their parts. The band's roots dig deep into the hills of Appalachian folk tunes and fiddle driven melodies. They blend two voices and instruments harmonious in a way that is…for lack of better phrasing, perfect harmony. Simple and relatable, but the musicianship of both of these artists is anything but simple."
– Red Line Roots
Nominated in the BIG RED Nominees "Favorite Local Duo" by Red Line Roots