Pierre Bensusan
The Prism Coffeehouse
is delighted to announce the return of
Pierre Bensusan: Guitar and Voice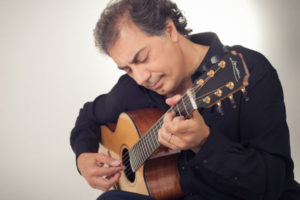 Friday March 31st at 7pm / Doors open at **6:45pm**
at C'ville Coffee, 1301 Harris Street, Charlottesville, VA 22903
Sponsored in part by:

THIS CONCERT IS SOLD OUT.
World renowned French-Algerian guitarist Pierre Bensusan was a regular visitor to the Prism Coffeehouse in its heyday on the corner of Gordon Avenue and Rugby Road in Charlottesville between 1996 and 2006,sometimes playing a unique-to-Charlottesville 2 night gig, (once in English and once entirely in French). Most of those concerts were recorded by the Prism, and fully 25% of his latest 3 cd live collection, 'Encore', taken from some 3000 worldwide concert appearances in his 40year career, are from those Prism Coffeehouse concerts. The Prism is delighted to announce the 'homecoming' of Pierre Bensusan to its new home at C'ville Coffee, a 2017 concert not to be missed!
Pierre talks about his 3 Live music cd collection "Encore":

More from Pierre Bensusan:



"Pierre's music gives me the shakes. No other guitarist shares his strange gifts of sophistication, accessibility and downright joy. Even at its most complex, Pierre's music only needs ears to be enjoyed."
– Leo Kottke
"Listening to Pierre Bensusan is rejuvenating. Beside his extraordinary touch and tone, the notes and melody appeal directly to the tender side of our human nature." – Steve Vai
"Album of the year, by a long margin." – Roots (UK)
"Impossibly beautiful" – David Curry, The Canberra Sunday Times (Australia)
"Spellbinding….Far beyond technical brilliance, this is the work of a mature artist that run the gamut from heartbreakingly romantic to edgy and dangerously exciting." – James Jensen/AcousticMusicResources.com
"Whenever the name "Pierre Bensusan" is mentioned to a guitarist, guitar fan, or anyone seriously into music, their response is always one of awe, reverence, and enchanted bewilderment at the man's unparalleled dexterity and creativity on acoustic guitar. He released his first albumin 1975, and since then has carved a reputation as one of the most innovative guitarists there is, practically unrivalled by any acoustic (or maybe even electric) player. Pierre's music, though highly complex, is defined by melody and accessibility. You can hum a piece by Pierre Bensusan. The melodies lodge in the mind easily as well as make you wonder – How does he do that ?" – Kernan Andrews, The Galway Advertiser (Ireland)
"To say that Bensusan is a master of the guitar is like saying Albert Einstein was good at math. When guitarist and multi-instrumentalist extraordinaire Larry Campbell tells you, 'this guy is something else. He is just amazing,' you listen." – Charles Lyonhart , Woodstock Times, NY